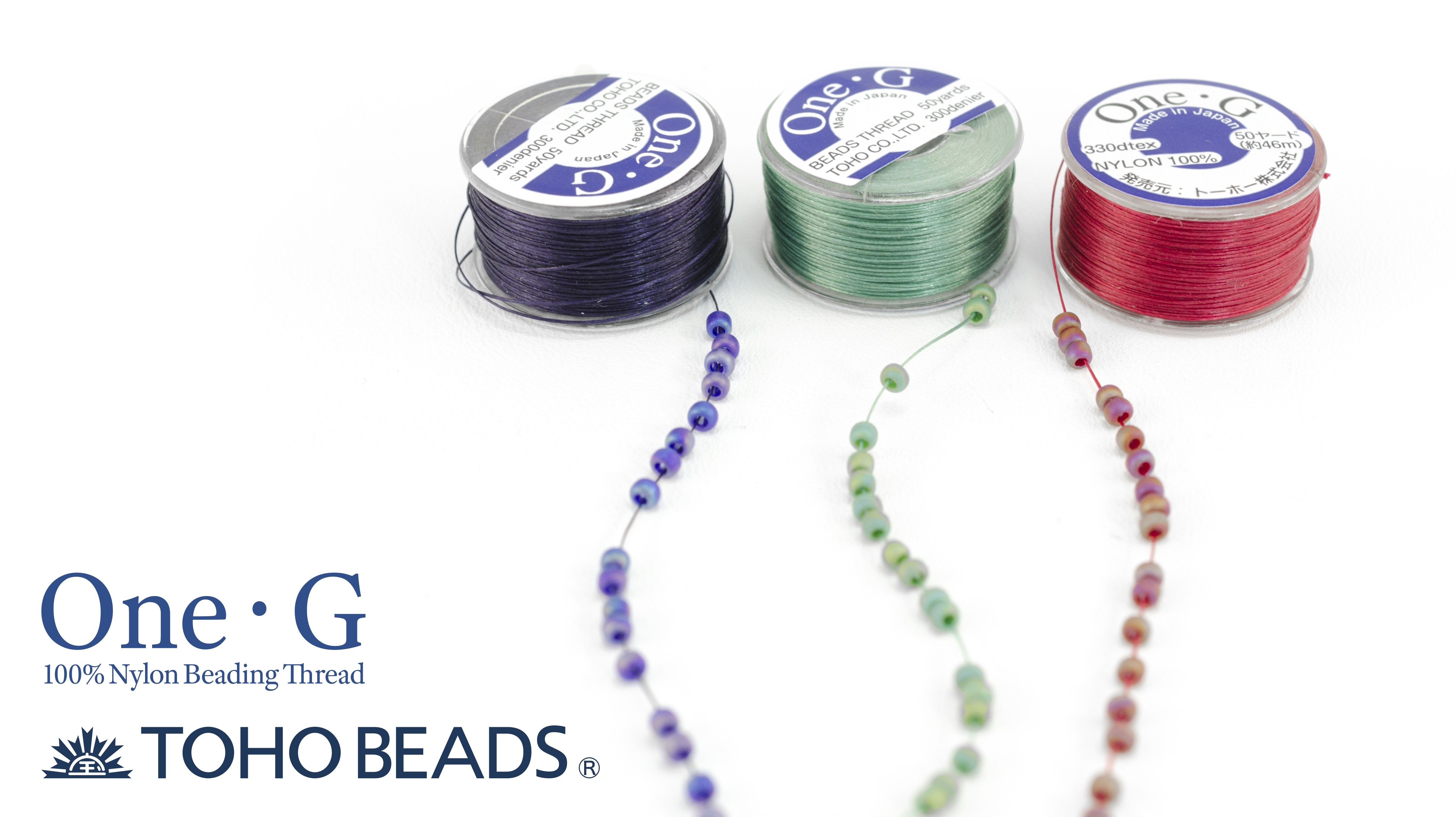 One-G nylon beading thread is a tangle-free, fray-resistant nylon thread from TOHO that's suitable for all of your beadweaving projects. It is available in 22 popular colors in 50yd, 125yd, and250 yd spools. The 50 yard spools are also available in irresistible 12-spool assortment packs that are perfectly organized in durable plastic cases.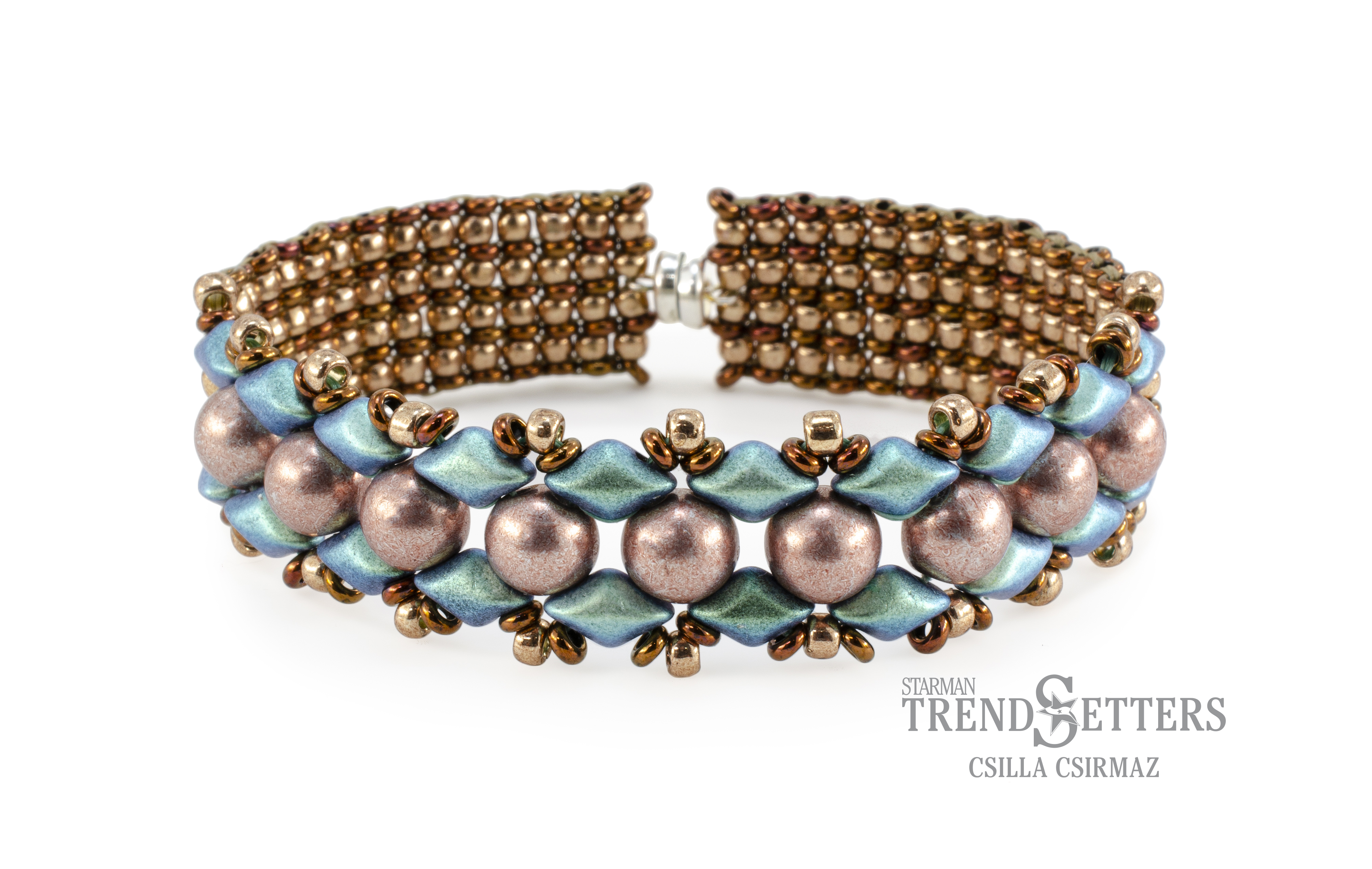 One-G Thread in two different colors was used to square-stitch sections of the "Spring in Bloom" bracelet designed by Starman TrendSetter Csilla Csirmaz. There are a variety of shades to choose from when color coordinating your jewelry designs. "Spring in Bloom" is available for bead store and online retailer download only.
Increase Sales by Educating Your Customers
Freely share the following Tips & Tricks for using One-G in your promotions, shop newsletters, blogs, product descriptions, and more.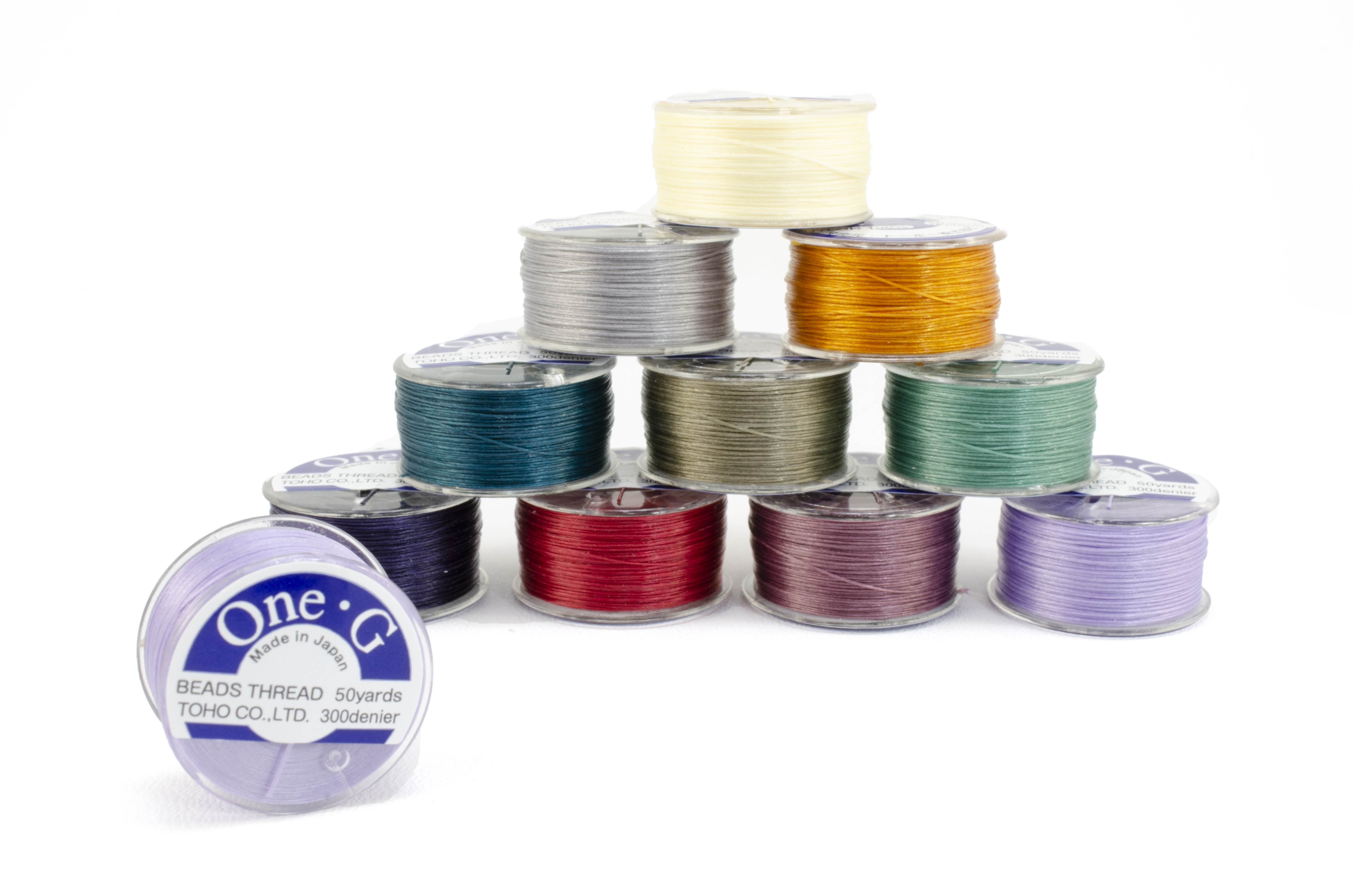 15 Tips & Tricks for Using One-G Beading Thread
Beads should be the star of your jewelry, so choose a thread that matches your beads as close as possible. One-G makes this easy with its collection of 22 colors.
After unwinding thread from the spool, straighten it out by pre-stretching it with a gentle tug.
Flexible thread allows for flexible beadwork. For beaded ropes with fluid drape and bracelets that aren't stiff, choose One-G over fishing line.
One-G's small amount of stretch helps you feel like you're "locking" your beads into place to achieve perfect thread tension throughout your project. Don't fret that this stretch will lead to loose beadwork overtime; instead, the thread quickly returns to its original form to secure the beads.
Invest in sharp scissors. Having a precisely cut thread end will make it easy to thread your needle.
When your project calls for nylon thread, be sure to choose One-G for its fray-resistant qualities. It will even withstand the famous frog stitch ("rippit, rippit") when you have to pull out and restitch errors.
When passing through beads a second time, try not to split the thread of a previous pass with your needle. If you find that your needle has caused damage, start a new thread—it's always better to be safe than sorry.
One-G works well with any size beading needle.
Avoid pesky tangles! Choose One-G over other nylon beading threads because it features a smooth, anti-tangle finish specifically designed to avoid knots.
From size 15/0 to size 6/0, One-G is suitable for making multiple passes through all sizes of seed beads.
Though One-G thread doesn't need to be waxed because of its durability, you will do no harm if you prefer the feel of waxed thread. Waxing creates a slightly stiffer thread.
One-G comes on durable plastic spools that help keep your bead stash free of wild threads.
Don't think of "threading the needle" by holding the needle out in front of you and trying to poke the thread end through the tiny eye. Instead, "needle the thread!" To do so, hold the thread end in your non-dominant hand so that it is barely poking out between your index finger and thumb. Then, lower the eye of the needle down over the end of the thread. Wasn't that easier?
One-G is a great match for all beadweaving techniques (from peyote stitch and herringbone to cubic-right angle weave), as well as bead looming and bead embroidery.
Consider the number of hours you devote to your beadwork and feel assured that you've chosen a good product. One-G is made by TOHO Beads of Japan, a trusted company that ensures quality.