Aiko, Treasures, Antiques, and Delicas Defined
Ever since we started into seed beads we've been asked many interesting questions regarding the differences between sizes, styles, and brands of seed beads on the market today. When purchasing beads, the beginner beader might not be able to tell the difference between Japanese, Czech, Indian, or Chinese seed beads. They will, however, notice the quality difference when they get the beads home and start using them. With seed beads you get what you pay for!
Professional jewelry designers and reputable beads stores will only work with high quality premium beads. Why? Because the time spent on creating a beaded masterpiece is worth more than the components themselves. Nothing is more discouraging than to have beads break, flake or fade even before the piece has been completed. Even more frustrating is when you find out the hard way that the seed bead holes are not uniform enough to pass a thread through more than once, causing hours of rework and stress.
That's why we chose to carry TOHO beads—the best quality seed bead you can buy.
Cylinder Beads - What's so special about them and who makes them?
Cylinder beads are exactly that—cylinders. Unlike regular rounded seed beads, cylinders look like tiny little tubes with crisp edges. When loose in a tube or baggie the two styles can be difficult to tell apart, but the finished results are dramatically different. Cylinder beads stack neatly against each other, creating a flat interlocking surface when stitched together. They work great in patterns where precision is key: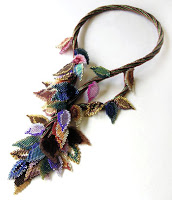 Beaded Cuffs
Loomwork (less culling)
Peyote stitch
Lampshades
Beaded figurines
Beaded boxes



Round beads give a piece a more natural, organic feel and are suitable for most projects. Toho rounds especially are more uniform than other brands. You can see by the diagrams below how the shape and hole size varies between the TOHO cylinders and round beads. There is plenty of room for thread in the holes for just about any pattern available.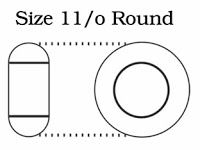 Brands of Japanese Cylinders
Treasures (formerly known as TOHO Antiques) - These beads are TOHO's most popular cylinder bead. Not only does the large hole come in handy for stringing projects, it also makes the beads lighter, which in turn translates to more beads per kilo! These are available in a wide variety of popular colors. Larger size #3 are also available.
Aiko
- TOHO's premium quality,
precision cut
cylinders.
Also known throughout the industry as the world's most perfect bead. People who have had the opportunity to feel woven examples of Aiko beads have compared them to soft, silky fabric that's supple and malleable to the touch. Aikos as explained on TOHO's website: "In addition to Treasure Beads, TOHO offers another line of cylindrical beads called Aiko Beads. Designed especially for bead weaving, Aiko Beads are top-quality beads manufactured with dedicated, state-of-the art machinery. Since they are totally consistent in shape and size, weaving with them is a delight, and the resulting woven piece has a wonderfully smooth, silken finish. Aiko Beads are available in the same colors as Treasure Beads. To honor our president's determination to make these the finest beads in the world, we have named these beautiful, delicate beads after Aiko, his beloved wife."
TOHO Bead Artistry Kits are an easy way to try out a large assortment of Aiko beads with flattering designs that accentuate the exquisite cylinder bead form. As with any TOHO bead style, over a thousand colors are possible. We value your thoughts and opinions so please let us know what colors you want to see the most!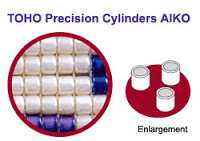 Delicas - Manufactured by MIYUKI SHOJI CO.,LTD. Popular in the US, these beads have their own unique color numbering system which is different than the regular Miyuki seed bead product line. A lot of the confusion over cylinder beads stems from the fact that Miyuki was the first Japanese company to export cylinder beads to the US. The word "delica" is often mis-used and has become synonymous with both Miyuki the company and Miyuki's cylinder bead style (the Delica). As with TOHO, Miyuki cylinder beads come in a basic cylinder and also a precision hex cut.
As for QUALITY the Miyuki delica is comparable with the TOHO Treasure bead, while the TOHO Aiko beads are used by the most discerning beaders.
Who knew so much technology could be crammed into such a tiny bead!