What Are QuickBuys?
QuickBuys from Starman Wholesale are limited quantities of rare, unique, and hard-to-find beads. Because we both manufacture and wholesale beads, we have the unique opportunity to acquire specialty products in small quantities. When this happens, we like to share the special stock with you! These are truly rare items: if you see something you like, buy it quick because it may never return to the warehouse! That's why we call it 'QuickBuy.'
QuickBuys have great prices, including a 15% discount and an additional 15% assortability discount at the 2 kilo level. With this kind of pricing, you can collect as many of these rare beads as you'd like.
How Do QuickBuys Work?
Because of the limited quantities, stock levels will deplete rapidly. You must shop quickly to guarantee that your item will be secured for you. Once you've put a QuickBuy item in your shopping cart, be sure to complete the checkout process soon because the quantity in our inventory will not be reserved for you until you submit your order. What's more, there's an expiration time on QuickBuy items – they will be deleted from your cart if you do not place your order within two hours. If you want the stock, you've got to beat the clock.
Minimum order value applies. You may have a mix of regular items and QuickBuy items in your cart to reach the minimum order value.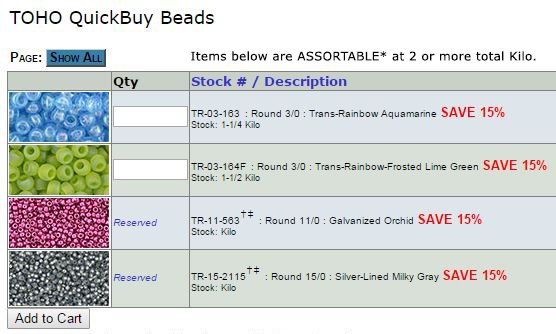 In this example, the top two items are still available in the TOHO QuickBuy category. You can see the amount of stock left. The bottom two beads have already been put in a shopping cart, and are on reserve for another customer. If that customer doesn't complete their order in two hours, the beads will be released and you may have another opportunity to snap them up!
When Do QuickBuys Happen?
Fridays at 4pm PST (7pm EST, 11pm GMT) Starman will add new items to the QuickBuy category. Set a reminder in your calendar or schedule an alarm on your phone because the beads may not stay on the website for long!
We will begin the TOHO Japanese Seed Bead QuickBuy event on July 31st at 4pm PST.
Where Do I Find QuickBuys?